Compiled and edited by Jon Sutz
---
Quick facts
Israel is one of the world's most LGBT-friendly nations, and hosts one of the largest annual Pride Festivals.
Every Muslim-majority nation in the Middle East, including the regions governed by the Palestinian Authority and Hamas, have outlawed homosexuality, with punishments ranging from imprisonment to execution. As a result, the LGBT community throughout the Middle East must live secretly, in chronic fear of harassment, discrimination, terror and violent attacks, including from their own families. This violent intolerance is steadily seeping into Western nations, including America (climaxing in the Pulse massacre) and Canada.
In 2015, CNN produced an excellent feature about ISIS's murderous application of shariah to Syrian LGBTs. As testimonies on this page describe, Muslims from Syria, Lebanon, Jordan, Egypt and nearby nations face severe persecution, all for the same reason.
Israel is the only nation in the Middle East to which the oppressed LGBT community in the region can flee, to live openly, in peace and freedom.
This page contains numerous personal testimonies, and detailed analyses of the LGBT situation in the Middle East, and Israel (see Section 1).
Update, June 2021: Even though Palestinian governments in the West Bank and Gaza have outlawed homosexual behavior & activities (here, here), President Biden has resumed sending hundreds of millions of US taxpayer dollars to these regimes, due to his  reversal of President Trump's policy, which cut off these funds until they stop inciting and rewarding terrorism. Which makes this June 7, 2021 Tweet by President Biden quite ironic, regardless of one's political orientation:
To transgender Americans across the country — especially the young people who are so brave — I want you to know your President has your back.

During Pride Month — and all the time.

— President Biden (@POTUS) June 7, 2021
---
Contents
(1) Israel is the sole refuge for the LGBT community in the Middle East
(2) Systemic anti-LGBT oppression, terror and murder in Palestinian-ruled areas
(3) LGBTs' plight in other Muslim-ruled nations, and from homophobic Muslims in Western nations
---
(1) Israel is the sole refuge for the LGBT community in the Middle East
For Gay Palestinians, Tel Aviv Is Mecca, by Kathleen Peratis, The Forward, February 24, 2006. Excerpt:
Arab human rights organizations sometimes advocate for gay rights, but they do so sotto voce. In fact, the only country in the Middle East in which gay people may safely leave the closet is Israel. Which is why, for gay Palestinians, Tel Aviv is Mecca.
Gay Palestinian men flee to Israel because they are not safe in the West Bank and Gaza. They also have no place else to go.
"Israel is close and far at the same time," says Haneen Maikey, a gay rights activist with Jerusalem Open House, one of the principal gay rights organizations in Israel. If the sexuality of a gay man in Palestine is exposed, his family might torture or kill him and the police will turn a blind eye.
Because they are so vulnerable to blackmail, it is assumed by the families and neighbors of gay Palestinian men — sometimes correctly — that they have been blackmailed into becoming informers, either for Israeli intelligence or for opposition Palestinian factions. So when they meet a violent end, the motivation of the killers is not entirely clear.
---
Tel Aviv Pride Festival in full swing this week, by ISRAEL21c, June 6, 2017. Excerpt:
This year's Pride Festival will feature the first large-scale pride parade in the world dedicated to celebrating the bisexual community.
At noon on Friday, June 9, Tel Aviv's annual Pride Parade will step off from the Tel Aviv Gay Community Center in Meir Park, with the theme of "Bisexual Visibility."
Marchers and floats will proceed along Bograshov Street, turning north on Yarkon Street, west on Frishman and eventually south onto the beach promenade toward Charles Clore Park, where thousands are expected to turn out for the biggest sunset beach party in the Middle East.
---
Hiding Out: Gay Palestinians In Israel: The 'Invisible Men', by Itay Hod, The Daily Beast, August 13, 2014. Excerpt:
On the run from their Palestinian families, living illegally in Israel—treated by both sides as the enemy—gays from the Palestinian territories can't go home again.
It's a dreary day in Norway despite it being the middle of summer. "It hasn't stopped raining," [Abdul Rawashda, a 27-year-old Palestinian from Hebron] said, covering himself with a thick blanket. "I'll never get used to this weather." From his balcony overlooking the American embassy hangs a Palestinian flag. "I want them to see it every morning when they come in," he laughs.
It's a far cry from his hometown in the West Bank, the place he was forced to flee. "I'm happy," he said. "I love Norway. I have Norwegian citizenship now. I can go anywhere in the world." Then, he pauses, realizing the irony in his last words. "Except home, of course."
On January 26, 2010, Rawashda was picked up by the Palestinian secret police in the middle of the night. Cops had gone through his friend's cellphone, where they found text messages sent from Rawashda that made it clear they were both gay. Next thing he knew, he was in an interrogation room being accused of collaborating with Israel. "I'd never even been to Israel before. But anyone who's gay is immediately accused of spying for the enemy."
For the next 16 hours, Rawashda was brutally beaten and tortured. Twelve thugs in uniform dunked his head in a toilet, trying to get him to sign a confession. "It was the worst night of my life. I don't like talking about it." When Rawashda refused, they picked up the phone, at 5 a.m., called his dad and told him his son was gay. […]
With the help of some friends, Rawashda escaped to Jordan, then Israel. He was in awe of Tel Aviv, a gay-friendly city with Pride parades rivaling those in Berlin and Amsterdam. As we chat about his life in Israel, Rawashda tells me to pan the camera so he could see the street behind me. "How is Tel Aviv?" he asks. "I miss it."
---
Video: "Israel: Gay Oasis"
"We came to Israel from one of Americas most progressive and accepting cities, San Francisco. In search of common ground, we decided to look at Israel through the lens of the gay community. All we really had starting out was a BlueStar postcard telling us that gay Israelis could serve in the army, a right still not enjoyed by our fellow Americans.
"The question was, how does a country so wrapped up in religion and conflict exceed our relatively peaceful and secular nation in terms of gay rights?. What kind of gay community has grown up in Israel in the last sixty years? And where will it lead? We found that Israels gay community has fought at least as hard as ours to secure its rights. And that even a nation surrounded by enemies can find a place for every one of its citizens to belong."
---
Tel Aviv Declared World's Best Gay Travel Destination, by Haaretz, Jan 11, 2012. Excerpt:
In a world-wide survey hosted GayCities.com and American Airlines, 43 percent of voters cast their ballot in favor of the White City, pushing it ahead of other proud towns including New York, Toronto and London.
Israel's LGBT community has a reason to be proud: It has officially been proclaimed the best gay travel destination of 2011. In a world-wide survey conducted by GayCities.com and American Airlines, 43 percent of voters cast their ballot in favor of the White City, followed by New York City with 14 per cent, Toronto with 7 per cent, Sao Paulo with 6 per cent, Madrid and London with 5 per cent each and New Orleans and Mexico City with 4 per cent each.
---
200,000 party at Israel Gay Pride Parade, region's biggest, by Chicago Tribune, June 3, 2016. Excerpt:
Colorfully-dressed drag queens and bare-chested muscular men on floats partied alongside thousands of others from the LGBT community at Tel Aviv's annual gay pride parade on Friday, the largest event of its kind in the Middle East.
Israeli media reported that 200,000 people joined the festivities. "The sun is out and everybody is partying and having fun, the atmosphere is great," said Christian Tummann, a German tourist celebrating with his husband.
"I feel so happy, so happy, that I can go to the Middle East and still be proud, it's very nice," said Swedish tourist Dona Ulzen.
---
(2) Systemic anti-LGBT oppression, terror and murder in Palestinian-ruled areas
Palestinian gays flee to Israel, by BBC, October 22, 2003. Excerpt:
A number of gay Palestinian men are risking their lives to cross the border into Israel, claiming they feel safer among Israelis than their own people.According to some estimates, there are now 300 gay Palestinian men secretly living and working in Israel.
Their willingness to live there – despite the risk of being detained and deported as a security threat – is due to Palestinian attitudes towards gay men, they claim.
One 22-year-old gay man who fled from Gaza into Israel four years ago told BBC World Service's Outlook programme he was almost killed when his family found out about his sexuality.
He says that when he was 18, he was caught with his boyfriend by his brother.
"[My brother] brought a stick and hit us," he said. "He tied us up with an iron rope and went to call my dad, and tell my partner's. Then he came back and hit us again."
The man said he escaped after his brother went out and told his mother and sister-in-law to make sure they did not run away.  "I started crying to my mum, begging her to let us go. So she untied us, and said if my dad found out, he would kill me on the spot."
---
West Bank, Gaza no haven for LGBT Palestinians, by Christopher Scott McCannell, Washington Blade, July 9, 2015. Excerpt:
Seattle Mayor Ed Murray visited the only Democratic state in the Middle East and the only one that protects the rights of all minorities, including gay and lesbian citizens. His visit to Israel as well as time spent in the West Bank, where he experienced firsthand the challenges facing the Israeli and the Palestinian populations is one that is often taken by American elected officials to understand the daily security threats the Israeli people endure. As the Syrian war continues to rage on at Israel's northern border and the threat of ISIS grows throughout the Middle East, Israel's strong and vibrant democracy is needed more than ever.
While in Tel Aviv, Mayor Murray spoke at a conference marking the 40th anniversary of Tel Aviv Pride, which reflected the accomplishments and continuing work that Israel needs to do to achieve true equality. This conference was hosted by the U.S.-based NGO A Wider Bridge, which promotes LGBT support for Israel and the Agudah, Israel's version of the Human Rights Campaign. Israel's record on LGBT issues has been one of the strong hallmarks of a democratic and civil society and includes being one of the first countries to allow gays to serve openly in the military, allowing equality at workplaces and recognizing same sex marriages performed outside of Israel. Tel Aviv's vibrant gay community is known for its 150,000 strong Pride march as well as a vibrant LGBT center supported by politicians of all stripes.
---
Only 5% of Palestinians and 6% of Lebanese accept gay relationships; Jordan blocked on of the first LGBT magazines, by Benjamin Weinthal, Jerusalem Post, July 1, 2019. Excerpt:
A survey published for BBC News Arabic reveals shocking rates of homophobia across the Middle East and North Africa.
The study was conducted by the Arab Barometer research network on June 24, during LGBT Pride month. The BBC wrote, "Acceptance of homosexuality varies but is low or extremely low across the region. In Lebanon, despite having a reputation for being more socially liberal than its neighbors, the figure is 6%."
The study wrote that a mere 5% of Palestinians from the West Bank accepted same-sex relations. Palestinians in the Hamas-controlled Gaza Strip were not surveyed.
Algerians scored the highest number of acceptance of gay relations with 26%. Morocco followed with 21% and Sudan with 17%. Tunisia tied Jordan with 7%. Palestinians harbored the most intolerance toward gay relations.
According to the BBC, "More than 25,000 people were interviewed for the survey across 10 countries and the Palestinian territories between late 2018 and spring 2019."
---
PA police arrest, harass members of LGTBQ community; Members of the Palestinian LGBTQ community have in recent weeks been violently targeted and harassed by PA officers, by Khaled Abu Toameh, Jerusalem Post, October 30, 2019. Excerpt:
The Palestinian Authority's persecution of the Palestinian LGBTQ community in the West Bank has continued with greater frequency and intensity, notwithstanding protests from human rights organizations, the alQaws for Sexual & Gender Diversity in Palestinian Society group said on Wednesday.
Members of the Palestinian LGBTQ community have in recent weeks been violently targeted and harassed by PA officers, the group revealed.
"Alarmingly, we have witnessed more than a dozen cases of targeting and harassment that have led to numerous arrests – or rather abductions – in recent weeks," it said. "We believe there are many more cases that have not reached us."
In August, the PA police spokesperson issued a statement banning the east Jerusalem-based alQaws' activities in the West Bank. The statement said that the PA police would prohibit any event organized by the group on the pretext that its activities go against "traditional Palestinian values."
The PA police called on Palestinians to report any "suspicious" activities and threatened to persecute alQaws staff and activists. The ban came after al-Qaws held an event in Nablus for its members.
"Although the harassment and persecution disappeared from public discourse, it had not – and still has not – ceased. The violent aftermath of the PA police statement has continued and reached its peak in recent weeks," alQaws said.
---
LGBTQ community violently targeted by Palestinian Authority police, i24NEWS, October 30, 2019. Excerpt:
The LGBTQ group says they have witnessed more than a dozen cases of targeting and harassment in recent weeks
The Palestinian LGBTQ community has seen an upsurge in police violence against it in recent weeks, the al-Qaws for Sexual and Gender Diversity in Palestinian Society group said Wednesday.
LGBTQ members have been arrested, harassed and violently targeted recently by Palestinian Authority (PA) officers, according to the group.
---
The Plight of the LGBT Community in the Palestinian Authority and Muslim Countries, by Dr. Edy Cohen, Begin-Sadat Center for Strategic Studies, September 19, 2019. Excerpt:
EXECUTIVE SUMMARY: The Palestinian Authority's violent treatment of the gay community under its rule offers a gloomy reminder of this community's difficult situation in most Muslim countries.
On August 18, the Palestinian Authority barred the Al Qaws (Rainbow) organization, which combines several LGBT groups, from holding an event in the Nablus area. Palestinian policemen not only forcibly prevented the gathering but issued a harsh and threatening warning to members of the gay community. They asked citizens to provide the police with any information they might have about the organization's activities, and made the following statement:
The Palestinian police will prevent the holding of the event and notes that it did not know about the similar previous events that were held in Nablus. The event in question is not suitable to the conservative nature of the city and will offend the values of the local population and the city of Nablus…The event, if held, will constitute an affront to the tradition and a blow to the values that Palestinian society has upheld throughout its history.
The police spokesman went on to warn that anyone connected to the event would be prosecuted, and promised full confidentiality to anyone providing the police with information that might lead to such prosecutions.
In the Palestinian Authority, gay activists and the LGBT community at large are subjected to continual and severe persecution. This persecution comes directly from the PA itself, which is supposed to prevent discrimination and protect all its citizens. As one gay organization wrote on its Facebook page: "We have received hundreds of hate messages and threats to our lives. The assault against us is without precedent. We are being called traitors and degenerates and there are even calls to eradicate us. We fear for our lives."
---
PA bans LGBTQ activities in West Bank; The ban came after LGBTQ group Al-Qaws was planing to hold a gathering for its members in Nablus, by Khaled Abu Toameh, Jerusalem Post, August 19, 2019. Excerpt:
The Palestinian Authority banned members of the Palestinian Lesbian, Gay, Bisexual, Transgender and Queer (LGBTQ) community from carrying out any activities in the West Bank.
The ban came after the grassroots group Al-Qaws for Sexual & Gender Diversity in Palestinian Society (Arabic for "the bow"), which engages and supports Palestinians who identify as LGBTQ, was planning to hold a gathering for its members in Nablus at the end of the month. The group operates both in the West Bank and among Arab-Israelis.
Earlier this month, Al-Qaws held an event in Nablus about sexual and gender diversity in Palestinian society. The PA police, however, learned about the event only days after it was held.
Al-Qaws is a civil society organization established in 2001 with the goal of "fighting for vibrant Palestinian cultural and social change, building LGBTQ communities and promoting new ideas about the role of gender and sexual diversity in political activism, civil society institutions, media, and everyday life."
The group has offices only in east Jerusalem and Haifa.
Explaining the decision to ban the LGBTQ group from operating in PA-controlled areas, Luay Zreikat, spokesperson for the PA Police, said that such activities are "harmful to the higher values and ideals of Palestinian society."
---
Film explores gay Israeli-Arabs' identities under rockets' red glare; Now screening in New York, British director Jake Witzenfeld's 'Oriented' depicts the challenges and triumphs of three Palestinian gay men in war-time Tel Aviv, by Lisa Klug, Times of Israel, November 11, 2015. Excerpt:
When British director and producer Jake Witzenfeld discovered the video work of a group of gay men called Qambuta, or "cauliflower" in the local Arabic dialect, he was immediately riveted.
"Their voice was young, rebellious, proudly gay and Palestinian and it was emanating from Jaffa-Tel Aviv," he told The Times of Israel. "This was an identity complex I'd never come across before and a new lens on an old story that I was keen to explore and revise."
Planning to create his own film, Witzenfeld began shooting footage in January 2013. And in May of this year, he delivered a final cut of his debut pic, "Oriented."
The film reveals the lives of three young men, all gay Palestinians exploring their sexual and national identities while war brews in June 2014. Abu Seif, conflicted by his desire for change in the face of a seemingly hopeless situation, is a Tel Aviv "darling" from a prominent Muslim mafia family living with his Jewish boyfriend, David. Fadi is an ardent Palestinian nationalist guilt-ridden with a Jewish love, and Naim must confront his family with the truth about his sexuality.
Witzenfeld, who is straight, hopes his 84-minute documentary will allow audiences to "understand the nuances of their identity complex," he says. "Through that, I hope we can all acknowledge that if this conflict was as simple as two dichotomous world views then we'd probably have solved it by now."
---
(3) LGBTs' plight in other Muslim-ruled nations, and from homophobic Muslims in Western nations
Sky Islamic channel Peace TV faces ban in Britain for saying gay people are worse than pigs and magicians should be executed, by Rory Tingle, Mail Online, July 23, 2019. Excerpt:
An Islamic TV station that said gay people are worse than pigs and magicians should be executed faces being stripped of its UK broadcasting licence.
Peace TV, based in Dubai, was found to have shown four programmes which breached Ofcom regulations on inciting crime, hate speech and abuse.
The channel, which is broadcast on Sky and also airs in the US, said the programmes were based on Islamic teachings.
The regulator said one show – called Strengthening Your Family – The Valley of the Homosexuals – made reference to homosexual people dying 'from a disease they contracted because they are homosexual' and said homosexuality was 'a very unnatural type of love that is energised by the influence of (Satan)'.
According to the Ofcom report, presenter Imam Qasim Khan said: 'Then they make laws now, the newest and most brash and insane laws, laws that protect homosexuals and even make it legal for them to marry each other.
'Men marrying men. Being on television in front of our children, kissing each other in the mouth, walking down the street, hugging and kissing – this society has gone insane."
---
Poll: 'Honor killing' more acceptable in Arab world than homosexuality; BBC News Arabic survey finds that since 2013, the number of Arabs identifying as "not religious" rose from 8 percent to 13 percent, by JNS, June 25, 2019. Excerpt:
According to a new in-depth survey of the Arab world, Arabs today are less religious compared to previous years, but still find "honor killings" more acceptable than homosexuality.
The poll also found that the greatest perceived threat is Israel.
The survey, conducted for BBC News Arabic by the Arab Barometer research network across 10 countries and the Palestinian territories between late 2018 and spring 2019, consisted of more than 25,000 interviews.
Honor killings were considered acceptable by 27 percent of Algerians, while 26 percent found homosexuality acceptable. In Morocco, it was 25 percent for honor killings and 21 percent for homosexuality, while in the Palestinian territories it was 8 percent for honor killings and 5 percent for homosexuality.
---
Hatred of Israel, Homosexuality and Women's Emancipation Are Dominant Beliefs in Arab World, New BBC Poll Reveals, by Ben Cohen, The Algemeiner, June 24, 2019. Excerpt:
A clear majority of the Arab world continues to believe that Israel is the main threat in the Middle East and North Africa, a comprehensive BBC poll of 11 Arab countries revealed on Monday.
The poll — which involved interviews with over 25,000 respondents in Egypt, Sudan, Lebanon, Jordan, the Palestinian territories, Yemen, Iraq, Morocco, Libya, Tunisia and Algeria — also demonstrated that a strict social conservatism prevailed throughout the region, exemplified by a violent hatred of homosexuality.
Opposition to women holding positions of power and influence, as well as sympathy for the practice of "honor killings" — the execution of female relatives for allegedly shaming their families — remains widespread as well.
The poll, conducted for the British broadcaster by the Arab Barometer research organization, showed that residents of the Palestinian territories were more resistant to liberal democratic values than are their neighbors in several respects.
---
LGBTQ – The Islamic Perspective – Canada, by Dr. Rachel Ehrenfeld, American Center for Democracy, February 4, 2018. Excerpt:
[C]anada, which prides itself on its draconian "hate speech" laws, allows major Muslim organizations, imams preaching in mosques, open lectures, books, videos and on social media, the notion that:
"The Hadd [fixed punishment] of homosexuality is stoning to death. The methods of killing them (the two who committed the homosexual act) that have been related from the Companions have differed. From among them, there were those who burned them with fire. Others among them killed them by stoning them with stones.  Ibn Abbas said about them:
"The highest building in the village should be sought, then they should be thrown from it upside down (i.e. on their heads). Then they should be stoned after that." 
– Excerpts from the book Minhaj-Al-Muslim by Abu Bakr Al-Jazairy (purchased at the Islamic Circle of North America's bookstore in Toronto)
These are no different attitudes than those of the Salafis, such as Da'esh (ISIS), the Muslim Brotherhood's affiliate, Hamas, and the mullahs in Iran.  See for yourself:
Appendix:
Abu Ameenah Bilal Philips, a Canadian Muslim scholar, and Imam:
Video 1 -"The Islamic Law says that if you're caught in an act in an Islamic State you will be executed. If you're been seen by four witnesses etc. execution. That's the law."
Video 2 – "It becomes a problem. Delaying marriage… Once we delay it [marriage] brings in [moral] corruption. Worse than that, you end up with lesbianism, homosexuality gets born out of those circumstances."
Video 3 – "If one were to consider homosexuality to be not a result of choice, meaning God made him that way, then it is inconceivable that God is going to prescribe a punishment for an inclination which people have no control of."
---
Gay Israel Activist Rips LGBT Student Group After It Pulls Support for His Event to Show 'Solidarity' With Palestinians, by Rachel Frommer, The Algemeiner, April 10, 2017. Excerpt:
A gay Israeli activist and former IDF commander told The Algemeiner on Friday that he was "baffled by the alignment of the LGBTQ community with the anti-Israel narrative," after a University of Florida (UF) student group pulled support for his on-campus lecture to show "solidarity" with Palestinians.
Hen Mazzig — currently on a university speaking tour organized by the Committee for Accuracy in Middle East Reporting in America watchdog group — said Pride Student Union of UF acted hypocritically when it backed out of his April 5 lecture (which went ahead with the support of student group This is Israel UF).
"Instead of fighting for equality, the LGBTQ community is showing the same type of bigotry that they should be standing up against. They are saying they want equality, but it's limited; it's for everyone but Israeli Jews," he said, adding that he was doubly confounded by Pride's actions as "Israel is the only country in the region who cares at all about these issues."
On Thursday, Mazzig responded on social media to Pride's charge that, "For those who may deem this action [cutting support for Mazzig] as antisemitic, we would like to add that supporting a political agenda plagued with violence and racism is antisemitic. Choosing not to support such an agenda represents solidarity."
Mazzig wrote that Pride had given into "hatred and fanaticism…bigotry and racism against Jewish Israelis."
---
Gays in Muslim countries face destruction; Clearly not all Muslims accept the anti gay teachings of their faith, and even if they do, most do no act on them. Omar Mateen may, however, be one of those who took these instructions literally, by Shmuley Boteach, Jerusalem Post, June 20, 2016. Excerpt:
We continue to learn new information about Omar Mateen, the man who carried out the massacre in the Orlando nightclub, but many questions remain unanswered. We don't know at this point, for example, if he took the teachings of Islam about homosexuals literally and acted on them or if he had some other motivation. Nevertheless, this tragedy must bring out into the open the serious anti-gay bigotry and persecution of homosexuals found in much of the Islamic world.
British filmmakers went undercover at the London Central Mosque, considered one of the most prestigious in Britain, to see if they preached something different privately than the moderate image projected in public. The documentary exposed imams "teaching the faithful that God orders them to kill homosexuals."
This was taught in Western Europe.
Imagine what Muslims learn in madrassas in the Middle East. Saudi Arabia produces textbooks used inside and outside the kingdom that teach the punishment for homosexuality is death. One book quotes Ibn Qudamah, who said, "The companions of the Prophet were unanimous on killing, although they differed in the description, that is, in the manner of killing.
---
Everything you need to know about being gay in Muslim countries, by Brian Whitaker, The Guardian, June 21, 2016. Excerpt:
The official fiction, Brian Whitaker explains, is that gay people don't exist in the Middle East. They do – and for many of them, the attitudes of family and society are a much bigger problem than the fear of being persecuted.
When the US supreme court ruled in favour of same-sex marriage last year, the White House welcomed it with rainbow-coloured lights and many people celebrated by adding a rainbow tint to their Facebook profile.
For the authorities in Saudi Arabia, though, this was cause for alarm rather than celebration, alerting them to a previously unnoticed peril in their midst. The first casualty was the privately run Talaee Al-Noor school in Riyadh which happened to have a rooftop parapet painted with rainbow stripes. According to the kingdom's religious police, the school was fined 100,000 riyals ($26,650) for displaying "the emblem of the homosexuals" on its building, one of its administrators was jailed and the offending parapet was swiftly repainted to match a blue rainbow-free sky.
The case of the gaily painted school shows how progress in one part of the world can have adverse effects elsewhere and serves as a reminder that there are places where the connection between rainbows and LGBT rights is either new or yet to be discovered.
In Afghanistan, only a few years ago, there was a craze for decorating cars with rainbow stickers – which Chinese factories were only too happy to supply. It wasn't until the Afghan Pajhwok news agency explained how they might be misinterpreted that the craze came to a sudden halt.
---
Islam's Jihad Against Homosexuals, by Ayaan Hirsi Ali, Wall St. Journal, June 13, 2016. Excerpt:
The rise of modern Islamic extremism has worsened an institutionalized Muslim homophobia.
The Orlando massacre is a hideous reminder to Americans that homophobia is an integral part of Islamic extremism. That isn't to say that some people of other faiths and ideologies aren't hostile to members of the lesbian, gay, bisexual and transgender, or LGBT, community. Nor is to say that Islamic extremists don't target other minorities, in addition to engaging in wholly indiscriminate violence. But it is important to establish why a man like Omar Mateen could be motivated to murder 49 people in a gay nightclub, interrupting the slaughter, as law-enforcement officials reported, to dial 911, proclaim his support for Islamic State and then pray to Allah.
I offer an explanation in the form of four propositions.
1. Muslim homophobia is institutionalized. Islamic law as derived from scripture, and as evolved over several centuries, not only condemns but prescribes cruel and unusual punishments for homosexuality.
---
Hamas Executes Prominent Commander After Accusations of Gay Sex, by Jack Moore, Newsweek, March 2, 2016. Excerpt:
The armed wing of Palestinian militant group Hamas executed one of the group's leading commanders after allegations surfaced of gay sex and theft, it has been revealed.
Members of the Izz al-Din al-Qassam Brigades shot Mahmoud Ishtiwi, 34, three times in the chest after they had detained him for a year, The New York Times reported on Tuesday.
Hamas announced that the man in charge of a number of the group's tunnels used for smuggling and surprise attacks had been executed for moral turpitude, a Hamas term for homosexuality.
Ishtiwi's family, Hamas loyalists, broke rank to condemn his execution, saying that "what happened was part of an internal settling of scores." They said that he was set up by the militant group and was tortured into making false confessions.
A Hamas investigation alleged that Ishtiwi had hidden money designated for his unit's weapons, before an unnamed man claimed to have had sex with him, providing details about their meetings. The investigation concluded that the money Ishtiwi had stolen had been used to pay the man for sexual relations or to bribe him to keep Ishtiwi's secret.
---
US Islamic Scholar Praises Brunei's Death Penalty For Homosexuality, Joshua Gill, Daily Caller, April 2, 2019. Excerpt:
An American scholar of Islam publicly praised the Sultan of Brunei for instituting death by stoning for "rectum-sex enthusiasts" in accordance with Sharia law.
Daniel Haqiqatjou, a Harvard alumnus and scholar of Islam, wrote an article on social media Saturday in which he fawned over the Sultan of Brunei for instituting the death penalty for "rectum-sex enthusiasts." He urged other Muslim countries to follow suit. Haqiqatjou founded the Alasna Institute, which provides training in Islamic apologetics, and has been featured in articles on CNN, The Washington Post, Al Jazeera, The Atlantic and First Things.
---
The Global Divide on Homosexuality, by Pew Research, June 4, 2013. Excerpt:
Overwhelming majorities in the predominantly Muslim countries surveyed also say homosexuality should be rejected, including 97% in Jordan, 95% in Egypt, 94% in Tunisia, 93% in the Palestinian territories, 93% in Indonesia, 87% in Pakistan, 86% in Malaysia, 80% in Lebanon and 78% in Turkey.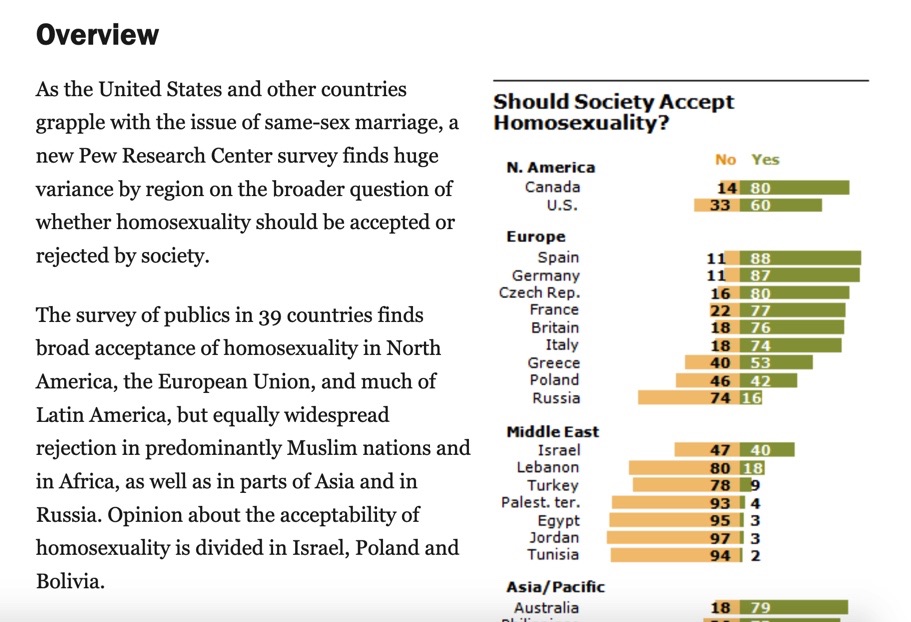 ---
100-Plus LGBTQ Filmmakers to Boycott Israeli Festival, by Alex Ritman, The Hollywood Reporter, March 2, 2020. Excerpt:
A group of more than 130 names from the film world, including at least 100 LGBTQIA+ filmmakers and film artists, have signed a pledge to boycott TLVFest, Tel Aviv's government-sponsored LGBT film festival, in what they say is solidarity with Palestinian members of the LGBTQIA+ community.
The pledge was organized by Palestinian queer organizations and PACBI, the academic and cultural arm of the Boycott Divestment Sanctions movement, a pro-Palestinian activist group that seeks to cut, among other things, global cultural ties with Israel in protest of the country's treatment of Palestinians in Israel and the occupied territories. […list of signatories…]
According to the signatories, LGBTQIA+ liberation "is intimately connected to the liberation of all oppressed peoples and communities" and commits "not to submit films or otherwise participate in TLVFest or other events partially or fully sponsored by complicit Israeli institutions until Israel complies with international law and respects Palestinian human rights."
Now onto its 15th edition, the 2020 TLVFest is due to take place June 4-13. According to the campaigners, there have been decade-long efforts to engage with the the festival, but it continues to maintain a partnership with the Israeli Ministry of Culture. As such, they claim that the TLVFest is being used as part of "pinkwashing efforts," using LGBTQIA+ rights to "project a progressive image while denying the rights of all Palestinians, queer and non queer alike."
The pledge, claims PACBI, marks a "new, proactive stand by queer film artists in solidarity with the Palestinian struggle for freedom, justice, and dignity."
---
100 LGBT filmmakers to boycott Tel Aviv festival to support queer Palestinians; Over 130 figures from the film world sign pledge, organized by divestment movement, to not attend TLVFest event, by Stuart Winer, Times of Israel, March 2, 2020. Excerpt:
Over 130 filmmakers from around the world, including at least 100 from the LGBT community, have pledged to boycott an upcoming government-sponsored gay film festival in Tel Aviv, the Hollywood Reporter said Monday.
The boycott targets Tel Aviv's International LGBT Film Festival, known as TLVFest, and aims to show solidarity with the Palestinian members of the LGBT community.
TLVFest is sponsored by the Culture and Sports Ministry, the Israel Film Council, and the Tel Aviv Municipality.
Those who signed the pledge committed "not to submit films or otherwise participate in TLVFest or other events partially or fully sponsored by complicit Israeli institutions until Israel complies with international law and respects Palestinian human rights," the report said.
LGBT liberation "is intimately connected to the liberation of all oppressed peoples and communities," the text reads.
The boycott was called by Palestinian queer organizations along with the Palestinian Campaign for the Academic and Cultural Boycott of Israel, the cultural arm of the anti-Israel boycott, divestment and sanctions movement, known as BDS.
Organizers say TLVFest is being used by Israel for so-called ""pinkwashing efforts" with the goal of projecting "a progressive image while denying the rights of all Palestinians, queer and non queer alike."